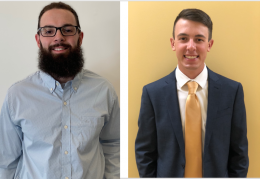 West Virginia University students Brent Mitchell of Shady Spring and Nicholas Oxendale of Oak Hill have been selected as the 2019 WVNLA Marcus W. Rennix Memorial Scholarship recipients. Both are landscape architecture majors.
Brent, who plans to minor in horticulture, has owned and operated his own landscaping company, HighLine Landscaping, for three years. He began the company while attending Concord University and Bridgemont Community and Technical College, where he  knocked out some of his early semesters of course work. His experience with his landscaping business, which has grown each year, led him to a green industry career path.
"My decision to become a landscape architect was based upon my business. I hope to one day run my company as efficiently as possible with all the knowledge that I will gain in this program. Landscape architects focus on aesthetically pleasing areas in the field and that is exactly what I strive to do," Brent said in his application.
Landscape Architecture Assistant Professor Elisabeth Orr, who has instructed Brent in several courses, recommended him for the scholarship. "I am certain he will continue to excel in our program, and I expect him to be an accomplished professional in the field after he graduates," she said.
A junior, Nicholas Oxendale manages to hold down four jobs in addition to his course work. When he's not in class, he works occasionally for a landscaper and is also a personal trainer, group fitness class instructor, and AutoCad instructor.
Nicholas particularly enjoys landscape architect classes that take students on-site for projects. "Our natural terrain is a thing of wonder, but it can be fragile. Development must recognize this and adapt projects to be compatible with it. I would hope to use in my professional career as a landscape architect the principals of adapting economic and development projects to the terrain to enhance both human life and the environment," he wrote in his application.
Associate Professor Peter Butler wrote a glowing recommendation for Nicholas, whom he has known for the three years Nicholas has been a WVU student.
"Nick is a highly motivated student who strives to find creative and thoughtful solutions to complex design problems.… His communication skills are excellent. He has a strong interest in plant materials and their application to improving aesthetics, quality of life, and spatial definition in our contemporary environments," wrote Peter.
Both Brent and Nicholas met all the requirements of the scholarship. We wish them the best as they pursue careers in the green industry.