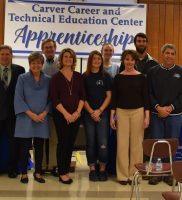 Program is first of its kind in West Virginia
Any professional association worth its salt not only educates and advocates for its industry, but also works for the industry's future. A crucial component of the nursery and landscape's future is encouraging young people to embrace industry careers.
WVNLA and the secondary school system in West Virginia took a big step in that direction on November 13 when education officials presented documents to companies whose owners agreed to participate in a newly launched apprenticeship program at Carver Career and Technical Center in Malden. The program is the first partnership with a career and technical center in West Virginia.
The signing ceremony, in which Cary Levenson of Valley Gardens in Charleston and representatives of Terra Care in Malden and Lisa's Gardenscapes in Cross Lanes agreed to take on student apprentices, was the result of efforts between staff members at Carver Career and Technical Center and the U.S. Department of Labor to launch a pilot apprentice program at the school.
"This is an exciting day for us all. This apprenticeship is ground-breaking in the state, and perhaps even at a national level," said Jim Foti, regional director for the U.S. Department of Labor (DOL).
Dr. Kathy D'Antoni, who is an assistant superintendent of the state Department of Education, enthused about the partnership between schools and employers, while she also shined a light on the students attending the ceremony. After the ceremony, several plant science students introduced themselves to the landscaping company representatives and talked about their plans.
WVNLA's involvement with the program began when executive director Julie Robinson attended an apprenticeship seminar last year.  She had the good fortune to sit beside Karen Wade of the DOL and asked about apprentice programs in the green industry. Karen said a landscape technician track was available. Karen worked with instructors and administrators at Carver to meet DOL program requirements.
Lisa McDavid of Lisa's Gardenscapes and Julie met with the plant science instructor Sandy Lynch and Karen to discuss the landscape technician apprenticeship. When asked about sponsoring an apprentice, Cary Levenson and Kevin Arnold of Terra Care readily agreed to work with one. Lisa was already onboard for this pilot program.
The apprentice process is an age-old and time proven method to provide motivated students with the tools, experience and expertise needed to give them a solid start in their chosen careers. Employers have the opportunity to match potential employees with a mentor to guide them along the way.  Carver students will be ready to go to work part-time in the spring 2019 semester on the terms arranged by their employers.
As an industry, we are grateful to Carver for launching the apprenticeship program to provide opportunity that benefits both the apprentice and the employer.