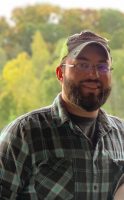 Rennix Scholarship Winner is Grounded in Experience
Described by his professor as a "credit to our landscape architecture program," Tyler Bailey adds the honor of being named 2020 WVNLA scholarship winner to his credentials. Tyler is a native of Poca working toward his bachelor of science degree in landscape architecture at West Virginia University. He was selected as the 2020 Marcus W. Rennix Scholar based on his impressive work background, professor recommendation, and academic record.
Although Tyler began his college career as a civil engineering major, his experiences working summers for his father, Terry Bailey, who owns a landscape business, L&T Property Solutions in St. Albans, drew him to a landscape architecture major.
"I am excited and dedicated to being able to incorporate sustainable designs and seeing my designs come to life in the field. I think it is extremely awesome to plan a design and watch it come to life. This is the main reason I chose the landscape architecture profession to pursue my career dreams," Tyler said.
Early on, while working for his father, Tyler learned hands-on how to bid, design, plan, schedule, and build projects in the field. He recalls learning to drive a dump truck when he was 14 years old. Later, as a project manager, he learned to take a project from start to finish. The projects included retaining wall and patio construction, sod installation, and lawn irrigation system installation. He operated skidsteers and excavators, and learned estimating and training techniques.
 "Being able to acquire hands-on field experience has provided helpful knowledge that directly relates to my landscape architecture career while studying at WVU. I credit my father with providing me the proper opportunities and experience that directly resulted in being able to decide on my career path," Tyler said.
Tyler says the guidance of both his father and his mother, Lisa Bailey, has played a key role in shaping him and the career he's chosen. He watched the example set by his father, who started L&T Property Solutions when Tyler was very young.
Tyler's classroom demeanor, leadership, performance, and work ethic impressed Assistant Professor Vaike Haas, who has instructed him in three courses. In his classroom and on projects, Vaike has observed Tyler exploring creative solutions and incorporating feedback from peers and instructors.
"He's not afraid to take a chance or to learn from constructive criticism, and he is always willing to refine a concept to a finished design—markings of a strong designer in the making," Vaike wrote in his recommendation for Tyler.
After graduation, Tyler hopes to find a position that will lead to a project manager job or perhaps toward starting his own firm as a licensed landscape architect in West Virginia.
"Being born and raised in West Virginia, I believe there are many opportunities to incorporate design elements and enhance a variety of locations across the state," he said.
We wish Tyler well and congratulate him on being named the 2020 Marcus W. Rennix Scholar.