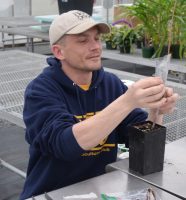 Congratulations to Dustin Trychta, a West Virginia University horticulture student who was selected as WVNLA's 2018 Marcus W. Rennix Memorial Scholarship winner. After graduating from high school in 1998, Dustin entered the army and was stationed as a cook in Budingen, Germany, for nearly seven years. He was honorably discharged in 2005 as a sergeant. He then worked as a civilian in security and quality control before settling into a 10-year stint in appliance installation.
Dustin's interest in horticulture began with cleanup of the yard of his first home, which had been neglected by the previous owner. After removing weeds and stumps, and regrading his yard to solve some runoff issues, Dustin tackled his first full-scale landscape project in his own yard. Then, learning as he went, he began planning and installing residential landscapes for coworkers and family.
Later, his horticultural interests broadened beyond general landscaping to giant vegetable gardening. This interest would later lead to his display of his giant gourd, "Pebbles," in WVU's student union as part of Mountaineer Week festivities. Dustin  also provided additional oversized gourds, which were hollowed out to be "boats," for the first Giant Pumpkin Regatta Boat Race, held in Morgantown last fall.
Below, Dustin offers more information about his interesting background and future plans.
What brought you to WVU?
My wife, Kirsha Trychta's, career as a law professor was a catalyst in our decision to become Mountaineers. She was offered a job here. A large factor in the decision was that I could finally pursue a degree in horticulture. It was a decision for two careers, rather than just one.
How do you think your experience as a nontraditional student with military background prepares you for a career in horticulture?
My military experience is a tremendous help in both completing my education and starting a career in horticulture. As a former cook in the military, I am familiar with working long and varied hours while performing strenuous tasks. The military taught me the value of waking early and resting late when deadlines are fast approaching. The military, in general, requires a broad set of skills, much like the horticulture industry. It also matured me and instilled leadership qualities that will be necessary when I expand my work into the employment of others.
How is your college experience different from that of traditional students?
Most notable is my understanding that I only get out of my education what I'm willing to put into it. Most college students are here because their parents told them they had to go to college, while others want to be here but are unsure what they want to do in life. I am fortunate enough to have lived some life prior to school and to know exactly what I want to study. I also very much appreciate coming home to my peaceful backyard garden every day, rather than a dorm room.
You have expressed an interest in starting a small-scale nursery specializing in the grafting of ornamental hardwoods. That is a very specific goal. How will you get there?
I have been giving that question a lot of thought. My educators and mentors tell me that is not the most logical idea, especially in Morgantown, where I live. However, my heart tells me that there is nothing I cannot accomplish, once I am determined to do it. The answer probably lies somewhere in between. If I pursue that dream, I know it will take dedication to my craft and long hours, often without a paycheck. It will take support from my wife and family, as well as continuing relations with industry professionals and members of organizations such as WVNLA, who can provide valuable insight.
You mentioned volunteer activities. Where do you volunteer?
The main place I volunteer is at WVU in the organic farm, where I display giant pumpkins for school activities.  I also volunteer for various projects at school and through the WVU Horticulture Club. I partnered with North Elementary School in their fourth-grade gardening program, and I have helped build or repair high tunnels and raised beds, and amend soil. I helped erect a high tunnel for Operation Welcome Home in Mylan Park, which is designed to teach local veterans how to extend the growing season and increase self-sustainability. I also auctioned off a party in my giant-pumpkin patch to raise money for a program in WVU's College of Law. Agriculture students from Trinidad and Tobago attended the party, and I taught them about techniques we use to increase efficiency and yields.
What are your hobbies/interests?
My wife (who is a teaching associate professor and director of the Academic Excellence Center at WVU's College of Law) and I love to travel together. We like to visit new places but also enjoy amusement parks and thrill rides. We enjoy puzzle games and trivia, and the occasional bingo night with her mother. We are planning a dream vacation when I graduate to tour the West Coast and see the majestic redwoods.
Do you think it is likely that you will remain in West Virginia after your 2019 graduation?
As of now, I have no intention of leaving West Virginia. When we moved here, we bought a home and intended to put down roots. Morgantown has been very kind to us and West Virginia is a beautiful state. I can't promise that I will be here in five years, but if you had asked me five years ago where I would be, I wouldn't have thought it would be here. No matter where life takes me, I will always hold West Virginia close to my heart.
I would like to thank WVNLA for supporting me and my education, and also for its support of the WVU Horticulture Club. It is in great part due to WVNLA that WVU students compete annually at the National Association of Landscape Professionals Collegiate Landscaping Competition. The opportunity there is great for industry exposure and networking practice at the focused job fair. Employers at the job fair offer actual job and internship opportunities. Thank you for your continued support.
Congratulations, Dustin!