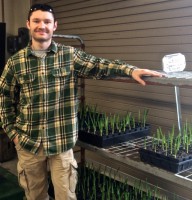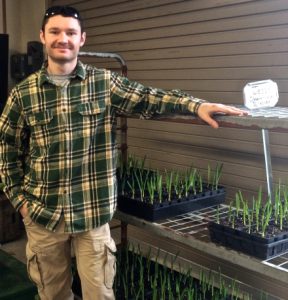 WVNLA is pleased to announce the selection of Jesse Poe as the Marcus W. Rennix Memorial Scholarship winner for the 2015-16 school year. Jesse is a junior Horticulture major at West Virginia University. He is from Charleston, WV, where he graduated from George Washington High School.
Jesse began his college career at West Virginia State University, where he worked in the greenhouses, helping graduate students collect fruit data for gene mapping. At WVU, Jesse interned at the Plant and Soil Science Farm, where he planted seed, installed drip irrigation, mulched, weeded, mowed and harvested crops. Currently, he works in the greenhouse that contains the University's extensive plant collection. His duties range from propagating plants asexually to washing pots in the workroom.
"Greenhouse and farm work have given me the highest appreciation for plants and other people who love them as well," Jesse said.
Jesse is president of the Horticulture Club at WVU.
Dr. Sven Verlinden, a WVU Horticulture professor who has worked with Jesse extensively, both at the organic farm and in his classrooms, recommended Jesse for the scholarship.
"I would rate Jesse in the top 10 percent of students I have worked with over the years when it comes to diligence and attention to detail. Jesse is clearly a hard work and does a great job balancing extracurricular activities, work and classes," Sven said.
Congratulations and best wishes to Jesse Poe, West Virginia Nursery & Landscape Associations' 2015 scholarship winner