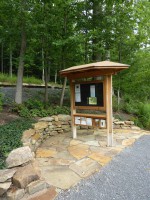 Morgantown, West Virginia
For the past several years, WVNLA has concentrated its volunteer and giving power on the West Virginia Botanic Garden (www.wvbg.org) in Morgantown, WV, making significant contributions as this unique garden flourishes. We have hosted several work parties in which members dug in with WVBG volunteers to plant materials donated by the Association.
Financial contributions have enabled WVBG leaders to purchase adjoining property and protect its view shed. We also arranged for and sponsored two noted garden consultants, Bill Noble, most recently of the Garden Conservancy, and Tres Fromme of the Atlanta Botanic Garden, to visit and study the garden and consult with its leaders. With assistance from WVNLA past president Bill Mills, Bill Noble developed a mission statement and master plan that will help move the garden into the future, while Tres developed a design for the garden's core areas.
"These are very exciting times for the Garden. The work of these consultants will help the Garden move forward with a clear vision to become a place known and loved by all proud Mountaineers," says Bill Mills.