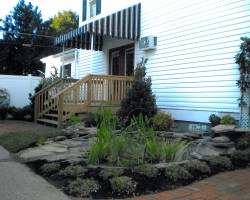 2010 – The Golden Girls Group Home, Ceredo, West Virginia (www.gggh.org)
Golden Girl is licensed to serve 24 girls from ages 12 to 21; with remarkable success serving dependent, neglected and predelinquent girls who are unable to make a successful adjustment in their natural homes or foster care homes.
They encourage positive change and growth through a series of educational, recreational, treatment and support services in a warm, loving, and therapeutic environment. They continue at the original location in Ceredo, which is a small, quaint town. It is ideally located and within close proximity to schools, recreational facilities, cultural events, and medical services.
The WVNLA built the GGGH a new fellowship building, an outdoor kitchen, a pond, new fencing, an arbor and awnings, a basketball court, installed low-maintenance landscaping and created a centralized courtyard, integrating their campus buildings into a pleasant, peaceful space.