Two promising West Virginia University students have been selected as WVNLA's 2022 Marcus W. Rennix Memorial Scholarship winners. Ruston Seaman, a landscape architecture and an environmental and community planning double major at WVU, and Mathias Solliday, a horticulture major at WVU, both received full scholarships in the amount of $5,000, based on their academic achievements, experience and instructor recommendations.
Ruston Seaman is a native of Buckhannon, where he graduated from Philip Barbour High School. His interest in outdoor spaces started in childhood when he used natural materials like sticks and rocks to create structures. His parents fostered his interest and included him in designs for projects such as their patio and outdoor fireplace.
Through his parents' love of travel and mission work in places such as the Navajo Nation in New Mexico, The Dominican Republic Haiti and throughout the United States, Ruston was exposed to different cultures, design styles and ideas that he thinks will benefit his career as a landscape architect.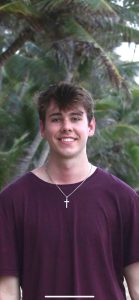 "I have always had a deep love and respect for my home state of West Virginia. I feel as if my Mountaineer roots have motivated me to want to help the state continue to grow as it continues to strength. I would love to stay in state and use my duel degree to work with the very communities that have raised me," Ruston said in his application letter.
He'd like to continue the kind of work he's doing in a design studio which is a redevelopment project for the city of Montgomery. The design will be used to as part of a grant request for the city.
Ruston's excellent performance in the classroom as well as his leadership skills and empathy for others prompted his landscape architecture Professor Vaike Haas to recommend him for the scholarship.
"Ruston is a designer and deadline driven one. His final project for LARC 360  was one of the best in his class, strongly resolved, with good attention to detail and high-quality graphics," Professor Vaike wrote. "He will be an asset to the workplace with his ability to work independently while being careful to fulfill project requirements and exceed expectations for design deliverables/graphics."
Both Professor Hass and Chris Dodge, who chairs the board of a non-profit organization in Philippi, spoke of Ruston's strong work ethic and empathy for others, which has led him to complete several volunteer projects in the community.
Mathias Solliday is a Horticulture major from Green Bank who graduated from Pocahontas County High School. In addition to achieving an excellent academic record, Mathias gained horticulture research experience through the Summer Undergraduate Research Experience Program at WVU. He worked with a mentor to research the effects of differing watering times on the development of kale and coleus. He also worked in greenhouses throughout his high school years.
He plans to continue his education with at least a Master's degree and then put his education to work in his hometown.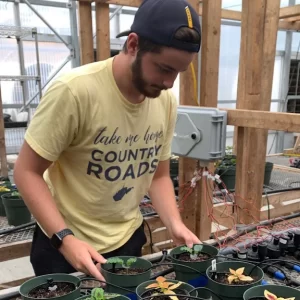 "I plan to return to Green Bank to open a small nursery. At this nursery, I plant to sell horticultural crops and vegetable plants to locals for their gardens. For year-round income, I plan to distribute microgreens to restaurants and other consumers in nearby towns and cities," Mathias said in his application letter.
Because Green Bank is a small town with limited employment opportunities, Mathias said he is pleased that the addition of his nursery will bring jobs to the area.
Horticulture Professor Dave Davis wrote that Mathias' passion for horticulture was evident from the first time he taught him in class. He has taken both Plant Propagation and Woody Plants courses from Professor Davis, and excelled in both.
"He attended class regularly, was prompt and participated in class. He is currently in my Case Studies in Horticulture course, which is our capstone course. To sum things up, Mathias is the ideal student that professors marvel at. He is smart, clever and mature for his age. I expect him to excel in the green industry," Professor Davis wrote.
Upon notification of their selection as scholarship recipients, both young men expressed gratitude to WVNLA for the recognition and financial assistance. We wish them both success in their careers.