Community members, patrons, West Virginia Nursery & Landscape (WVNLA) members and sixth grade students from Huntington Middle School attended a dedication and ribbon cutting October 16 for a new landscaped outdoor space at the Cabell-Wayne Association of the Blind (CWAB) in Huntington.
The natural learning environment, or accessible sensory garden, is made up of several stations, including a gazebo with seating; a sandbox and wood chip box; log slices of various sizes that people can climb or sit on; a patch of grass; and a pollinator section that features various types of plants.
The space was created and funded by WVNLA as the joint president's projects of former presidents David Hill and Stephen Saunders. Hill, who designs natural learning environments, proposed the installation to honor a former WVNLA board member, whose daughter received services at the center. Saunders, a subsequent WVNLA president, added the allotment of his president's project to CWAB in honor of his aunt and uncle, who were active there for most of their adult lives.
Many WVNLA members volunteered their time, equipment and talent in several work sessions to create the space, which "wouldn't have come to fruition if it wasn't for community and community love," Hill said during the event. In addition to Hill and Saunders and his employees, John Perry and six of his GrassBusters employees, Mark Springer, Bud Cottrill and his employees, Eleanor Gould and her friend Maram Moushmoush worked on the site. Hugh Roberts and his carpentry students at Cabell Count Career Technical Center built and installed the tresses for the pavilion at the center of the installation.
The space was dedicated to Willis Gene "Buck" Saunders and Mary Ann Saunders, Saunders' uncle and aunt, who were consumers, patrons and supporters of CWAB. It was also dedicated to McKenzie Bartholomew, who received services there before she and her family moved to Florida.
"That is all my parents ever wanted was to have the world be as accessible to the blind as it was to those in the sighted world," said Teri Saunders Booten, Buck and Mary Ann Saunders' daughter, who attended the event with her sister, Laura Bowen. "Steve and Dave and everyone involved have done their part to make this accessible."
Michael Bartholomew, McKenzie's father and former WVNLA board member, also spoke during the event, said he will always be grateful for the dedication.
"This is such an honor that I was not prepared for, but I will take with me for the rest of my life," Bartholomew said.
Booten said the dedication was emotional for her.
"My parents were very involved people in advocating for the blind, and so they would be very glad and really very humbled by this dedication here, because they never saw themselves as anything special, just as people who were trying to make the world more accessible for the blind," Booten said.
Booten, who is a sixth-grade math teacher at Huntington Middle School, was also able to share the experience with her students, who she said she wanted to see and experience something different from their normal.
"Oftentimes, people don't have any experience with individuals who are blind or have a visual impairment, and part of our job as educators is to help students learn about all types of environments, and this was a way to show them that there are other ways to enjoy a garden, a learning environment, other than just by seeing it," Booten said.
"Now, they've been through the garden and have been able to feel that plants feel different; they don't just look different, they feel different, they smell different. They were able to experience it in a way that wasn't their usual way of experiencing it," Booten continued.
Toni Walls, executive director of the CWAB, said the new outdoor space will be primarily for consumers and CWAB staff, but people who rent the association's activities center could use it, as well.
The garden's site resembled a a vacant lot before the WVNLA installation.
"West Virginia's a relatively rural state, but Huntington is very urban, so it's really cool to have on our grounds this beautiful natural environment where you can sit and enjoy a cool breeze, or watch butterflies fly through," Walls said. "Even though our consumers are blind or visually impaired, a lot of them have usable vision and can see a butterfly float by if it's close enough to them. The can hear the bees in the flowers — and it's right here.
"If we have a peer support group meeting, they can bring their group out here to sit in the gazebo and just enjoy it. They don't have to make arrangements to get to the park. This belongs to them."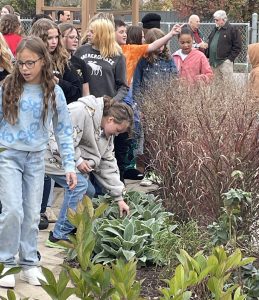 This article includes excerpts from an article that appeared in the Huntington Herald Dispatch.